Canon's compact market is generally aimed at those upgrading from a smartphone or people looking for a smaller second camera.
Technological advancements in sensor size, video quality and portability has also meant that these kinds of cameras operate in a part of the market well suited to bloggers, videographers and vloggers, with features such as live streaming and increased connectivity boosting their usefulness in a connected world.
Here, we take an in-depth look at one of Canon's latest offerings in this range – the G7 X mark III (£649, Currys.co.uk). Out of the box, the camera is a lightweight and compact unit. It doesn't have an electronic viewfinder – it opts for the large LCD screen as favoured by many compact camera manufacturers these days – but we liked its useful handgrip and found that the ergonomics were great for taking pictures on the go and slipping it into our pocket when not being used.
Photographers familiar with Canon's software and user interfaces will feel right at home here and we liked the ability to navigate all menus and features using the touchscreen, a feature that is lacking from some other compact cameras in this price range. But what are the results like? Read on for a thorough review of the camera's features and performance.
How we tested
Like many of our compact camera reviews, we used this model over the course of two weeks in a variety of settings, from dim, evening outdoor shoots to landscapes in full sunshine. We also made sure to take it around with us when walking and generally out and about to test its portability, lightweight attributes and ease of use.
Canon powershot G7 X mark III camera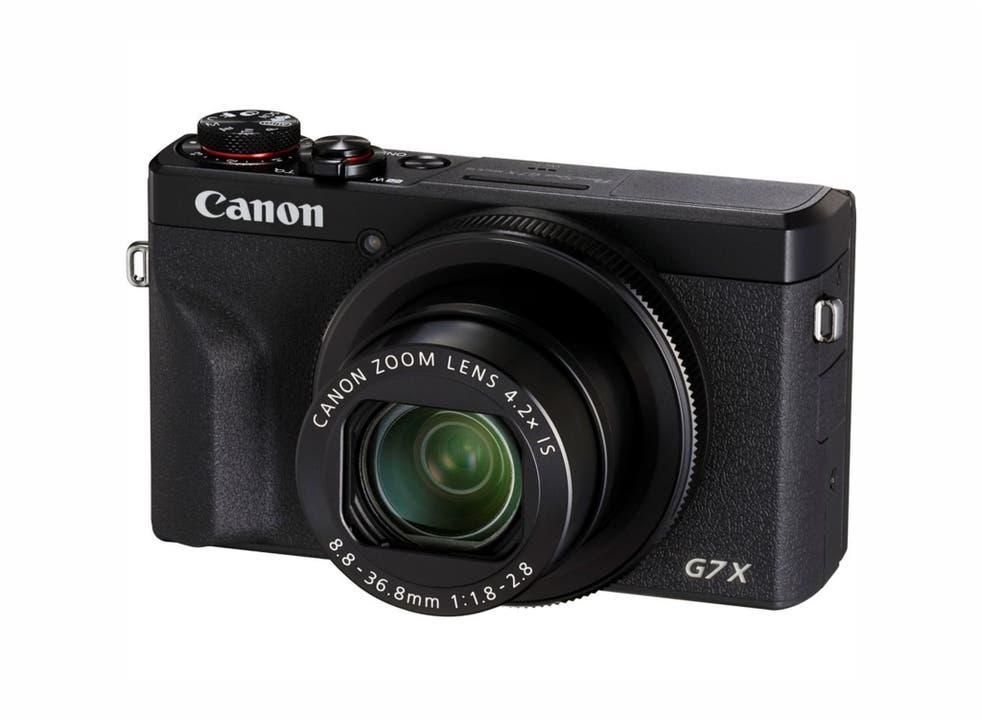 Buy now £649, Amazon.co.uk
Sensor: 1in 20MP
Lens: 24-100mm F1.8-2.8
Video: 4k at 30fps at 1080 at 60fps, live streaming supported
Other specs: 3-stop ND filter, tilting LCD touchscreen, wifi and Bluetooth enabled, USB 3.1 charging and data transfer
Quality and performance
One area that sees compact cameras such as the G7 X mark III gain an advantage over smartphones is in the sensor size. The 1in sensor in the Canon offers 20MP images and provides the opportunity for the camera to take in a much greater amount of information than today's camera phones. At the same time, it uses new technology to improve the autofocus and shooting speed – it can take short bursts at 30fps in RAW format, which we were impressed by, and if the camera is allowed to refocus between shots then the focus lock and shoot speed was still ahead of many rivals at 8fps.
The camera is twinned with a fast lens that offers a 24-100mm range at f/1.8-2.8, meaning that shooting in low light conditions isn't too much of a problem. In fact, we shot images in dark indoor settings and found that we didn't have to push the ISO up much in advance of 800, which was a pleasant surprise. At ISO 1600 the image quality is still good, with acceptable levels of noise for a camera this size, and degradation only began to happen at levels in excess of 4000.
Features
As you'd expect, the camera offers wireless and Bluetooth connectivity, as well as the ability to shoot in 4K at 30fps (you'll have to go hunting for this option in the menu though – by default, it shoots in 1080p at either 30fps or 60fps). Video stabilisation was good but perhaps not as good as some other more video-centric cameras we've tested, however the image quality is good if perhaps a little soft for our liking. We did enjoy the fact that there's the ability to add an external clip-on microphone using the side inputs, with the introduction on this model of a headphone jack too, which is useful.
Canon's biggest addition to this version of the G7 is the ability for video content creators to live-stream straight from the camera. It's a nice touch and will definitely add to its value for YouTubers and influencers, although considering it doesn't also record the footage you're shooting to the memory card while you're streaming, we did find this feature to perhaps be a little gimmicky. Many people will find it genuinely useful, however, and we found it easy to set up and use providing internet connection was strong and stable.
One feature we liked that is worth mentioning is the camera's built-in three-stop ND filter – this made it much easier to get contrast, clarity and quality when taking photos in strong lighting conditions.
Visit Our Partner :
Situs Judi Slot Online
Slot Online Terbaik
Situs Judi Online Terbaik
Tutorial Permainan Kartu
Free HTML5 Games
Celebrity and Game News
Minecraft Toolbox
Life Photography
Cheat Association