Lofoten, Norway
Norway's remote Lofoten Islands provide the perfect setting for incredible photography opportunities, with soft winter light and majestic mountain landscapes rising from the sea.
The Lofoten Islands are located above the arctic circle in Northwest Norway. Made up of deep fjords, craggy peaks, sandy beaches, and cute red fishing cabins, the islands are a wonderful location for landscape photography.
Especially in February, with the pleasing effects of low winter light.
I rented a car and spent 10 days driving around the Lofoten Islands with my camera, hunting the Northern lights, tracking down hidden beaches, and hiking through deep snow to capture inspiring images of this amazing section of Norwegian wilderness.
With very little daylight and seemingly endless sunrises & sunsets, winter in Lofoten is the perfect time to visit for photography. Frequent aurora sightings and white snow-capped peaks are just icing on the cake.
Below you'll find travel photography from my adventures in Norway's Lofoten Islands, along with a short video I produced along the way.
I hope my Lofoten Island photography inspires you to visit for yourself!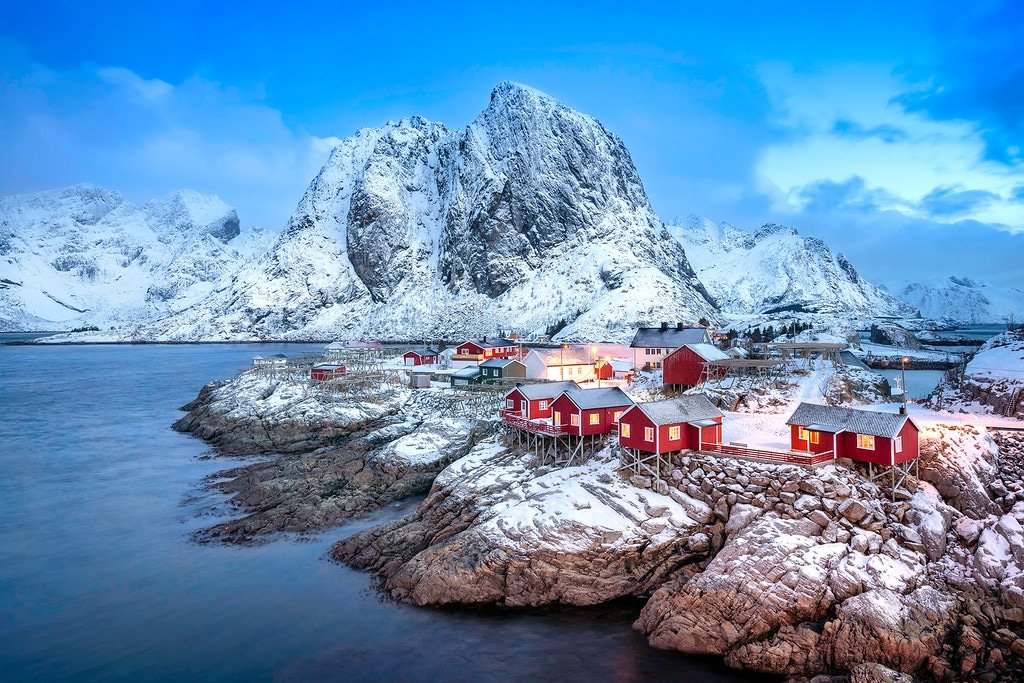 Eliassen Rorbuer Cabins on Hamnoy
Hamnøy Island
This is probably the most iconic photography location in Lofoten. Hamnoy is a small island and village near the spectacular fjord of Reinefjord, just outside the town of Reine. Red wooden cabins hug a rocky coastline, with huge mountains rising from the background. I actually stayed in these cabins too! They are called Eliassen Rorbuer. This shot was taken from a nearby bridge after a fresh layer of morning snow covered the landscape.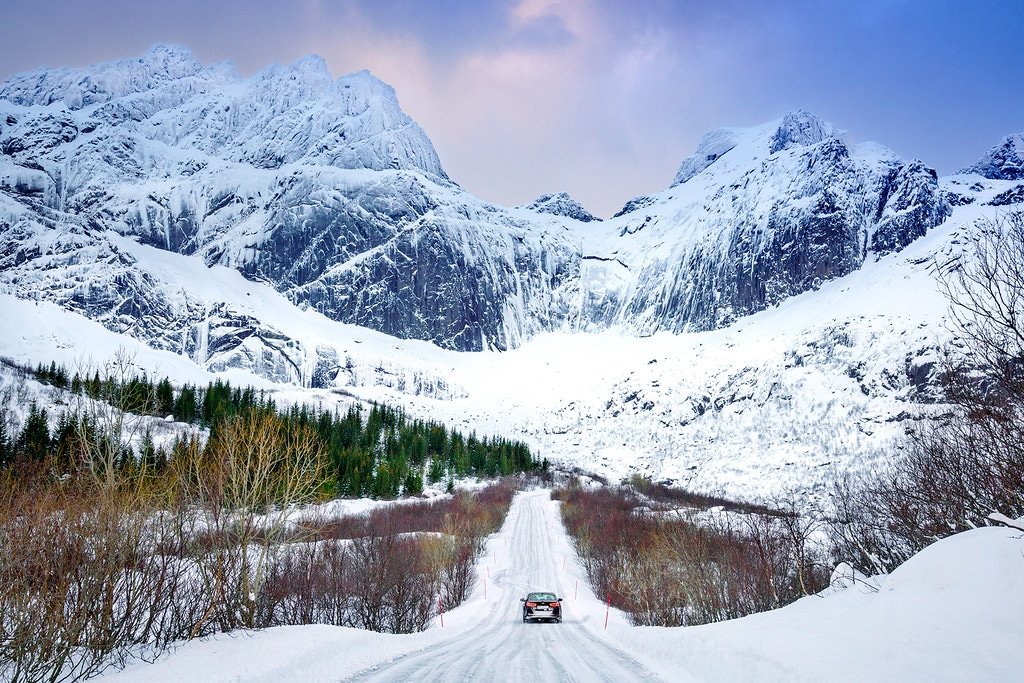 Nusfjord Mountain Pass
Lofoten Road Trip
The Lofoten Islands are connected by a series of bridges and tunnels along a main road called the E10. Splintering off it are many side roads for you to explore. Like this one, Route FV807, which winds through an impressive mountain pass on the way to the fishing village of Nusfjord. Winter driving in Lofoten can be tricky, with snowy roads and quickly changing weather conditions. All rental cars come equipped with studded snow tires.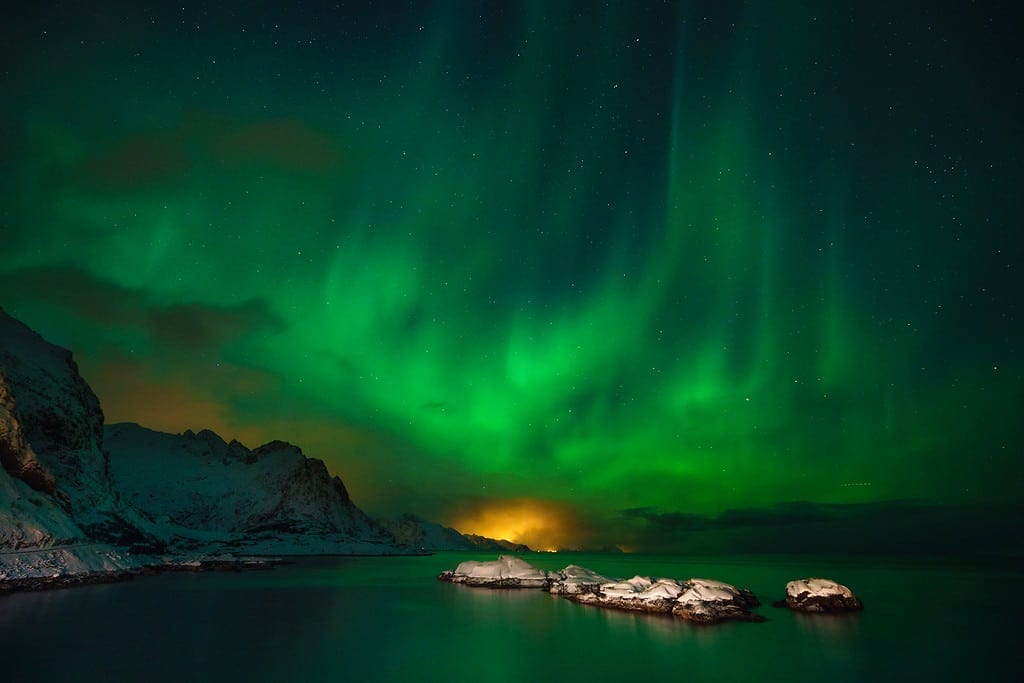 Northern Lights in Lofoten
Northern Lights
One of the biggest reasons to visit Lofoten in the winter for photography is the magical northern lights which occur between September – March. With its extreme northern latitude and long nights, conditions are good for nature's amazing light show. However catching a glimpse of the lights is not certain. Clear skies and strong aurora activity are needed. I lucked out with two decent nights of northern lights while traveling around Lofoten.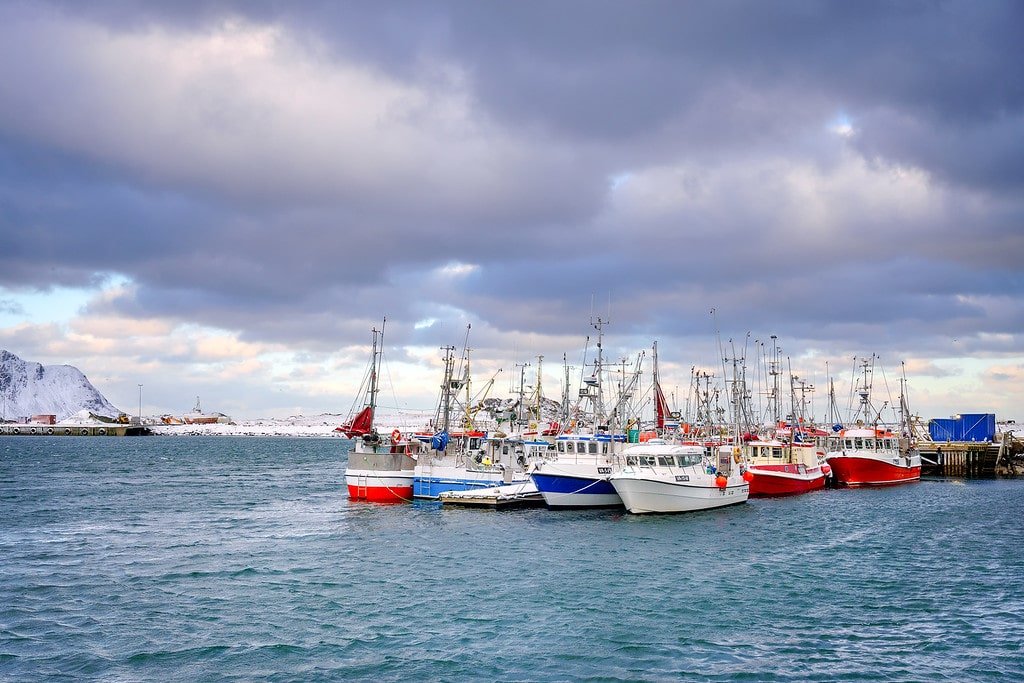 Fishing Community
Norwegian Fishing Boats
Fishing has been a fixture in the Lofoten Islands for over 1000 years. The unusually warm waters lure millions of arctic cod to spawn here between February – April. Most of the population is involved in the cod fishing business in some capacity. Every morning I watched fishing boats heading out to work, or men hanging the "stockfish" on wooden racks to dry in the open air.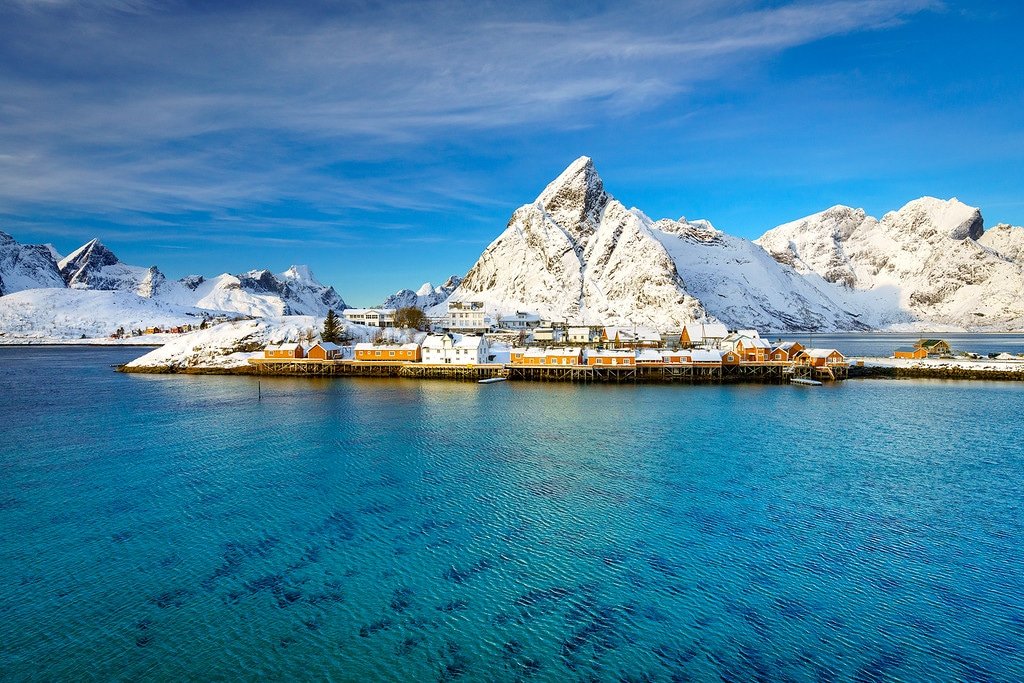 Sakrisoy Rorbuer Cabins
Sakrisoy Rorbuer
More renovated fishing cabins in Lofoten that you can stay in, these yellow wooden buildings are part of Sakrisoy Rorbuer. I was shocked at just how many of these landscapes look fake, like they were created specifically for perfect postcard photos. Here the snowy Lofotenveggen Mountains tower behind the small yellow cabins, a shallow crystal blue bay in front. It's a colorful mosaic which continually changes with the passing of the seasons.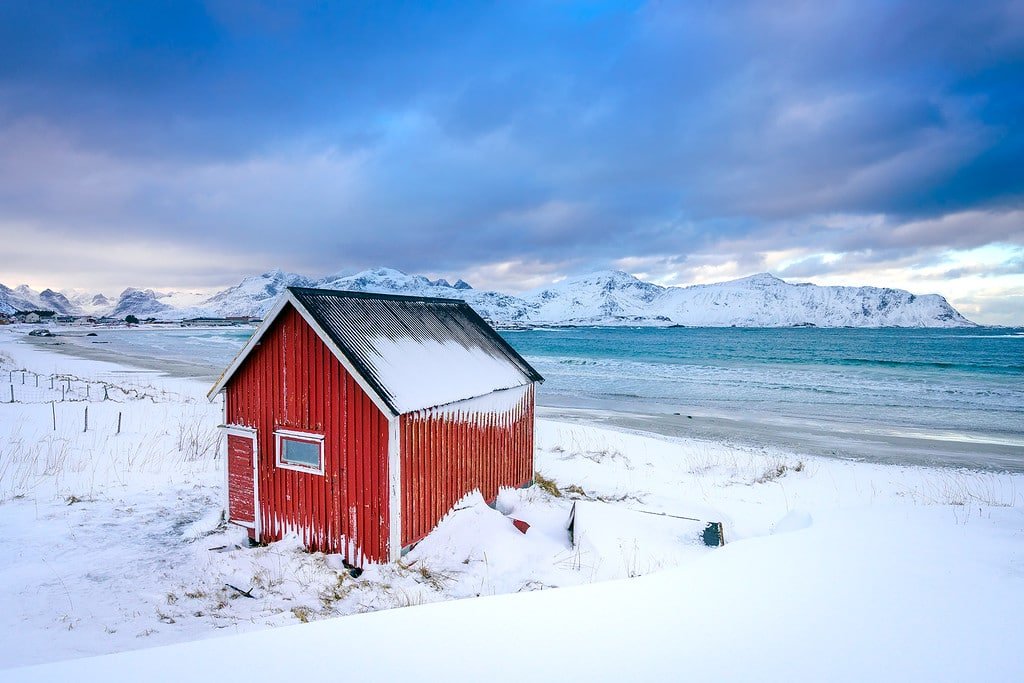 Snow Covered Beaches
Rambergstranda Beach
The rusty red color is achieved with paint mixed with cod liver oil. Plenty of that around these parts! When it's not so snowbound, this is a landscape of waving grass and sky-blue water, and temperatures hit 20 degrees C, but on days like this, everything's locked down with the cold and if you're taking photos, you'd better have your gloves handy. Checkout my Survival Guide in Cold Weather for more info.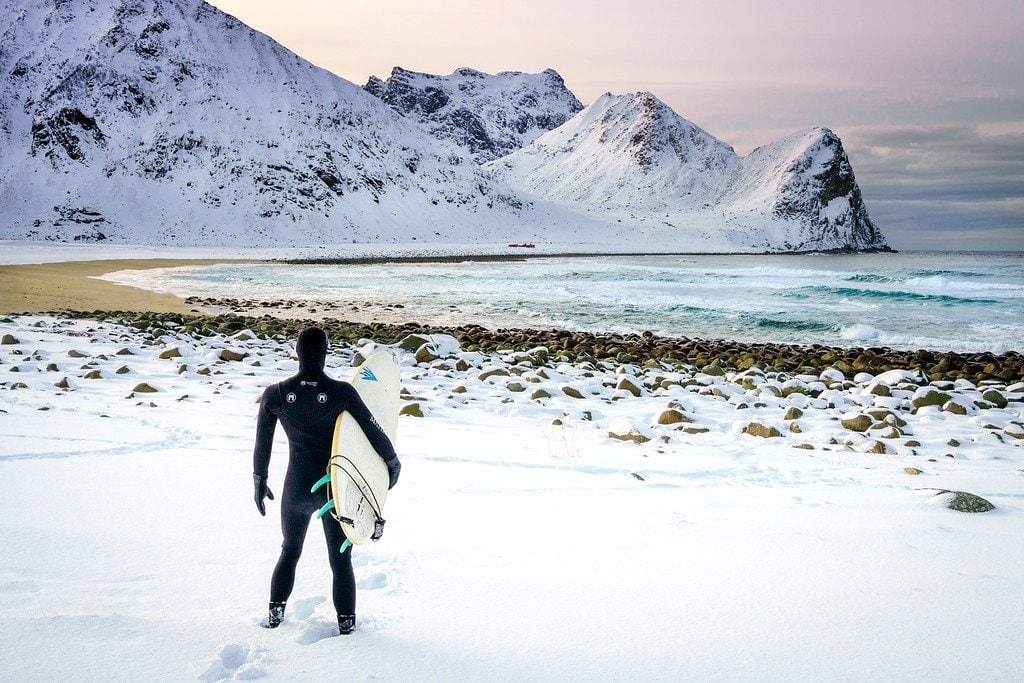 Surfing in the Arctic
Arctic Surfing Unstad
Because it's on the Gulf Stream, Lofoten's climate is relatively mild despite its latitude above the Arctic Circle, plus the insulating properties of modern wetsuits are astonishing. (If you're in the water and you're feeling cold, you're doing it wrong.) These waters attract surfers of all skill levels from around the globe – and I decided to jump in and give it a try with the guys at Unstad Arctic Surfing. What a crazy experience!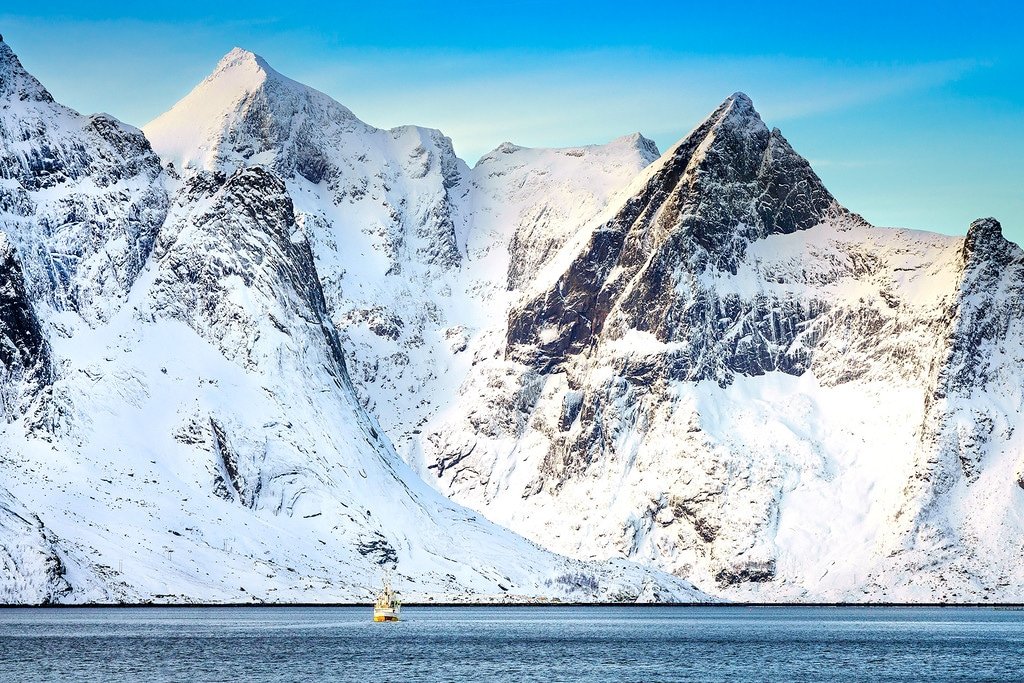 Giant Coastal Mountains
Lofoten Mountains
Stand on the beach anywhere in the Lofoten Islands, and most of the landscape towers above you, up to a thousand meters above sea level. Inhabitable land is the exception, not the rule – and only possible on infrequent strips of terrain between the sea and the colossal mountains that form the bulk of the island chain. In places, the mountains rise near-vertically from the sea. It's a stunning backdrop for everything you do there.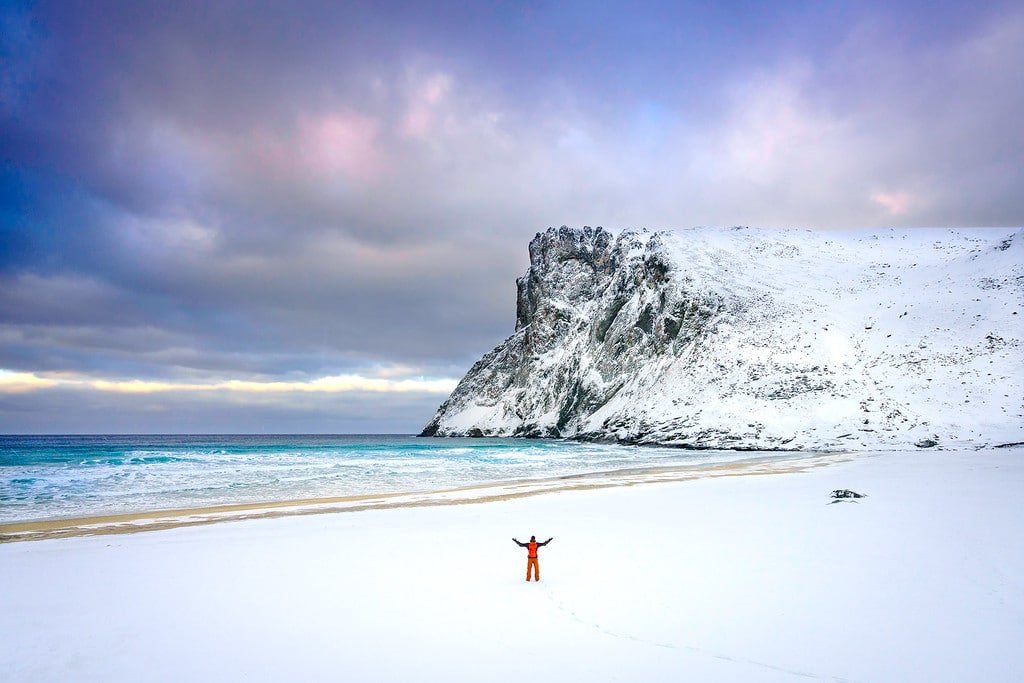 Kvalvika Beach Photography
Hiking Kvalvika Beach
This beach, in a remote corner of Moskenesøya, is only accessible on foot – park your car, take the easy trail over a nearby pass between the mountains, and after an hour you're in one of the most beautiful places in the whole archipelago. During warmer months, Kvalvika Beach a great place to camp, complete with driftwood and a mountain stream – but even when the snow lays thick, it's well worth a visit. Just expect the hike to take a bit longer.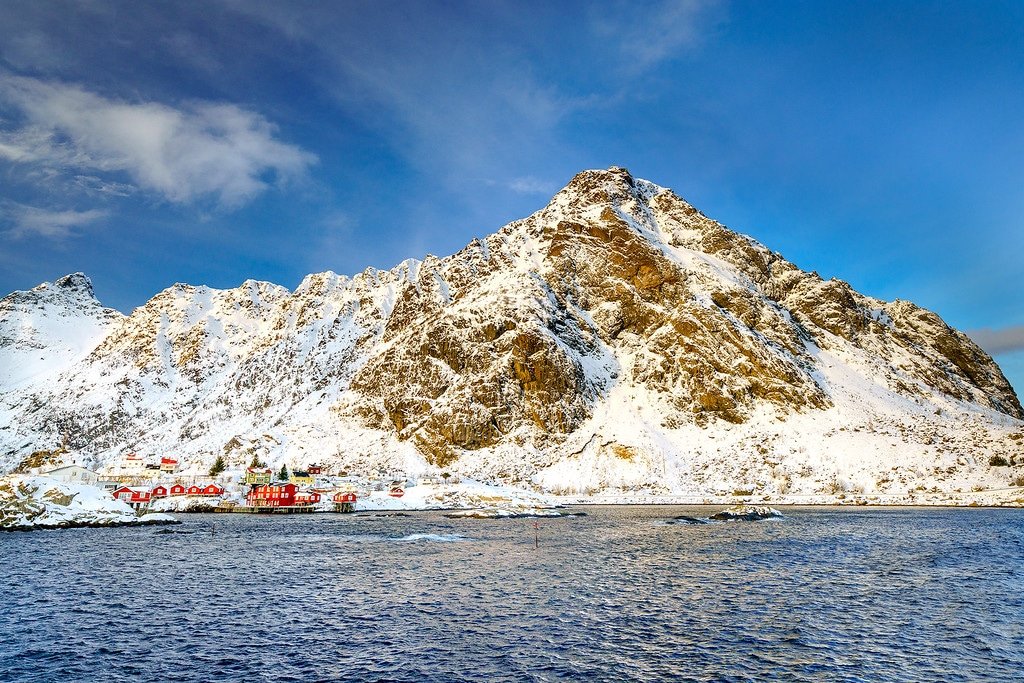 The Village of Å
Å, Norway
No, it's not a misprint – it's a one-letter word pronounced "Aw" that in Old Norse means "small river." This tiny but popular village is at the southern tip of the Lofoten peninsula, and people come from miles around to have their photo taken next to the town sign – and, occasionally, to steal the sign, a constant irritation for the town's 150 residents.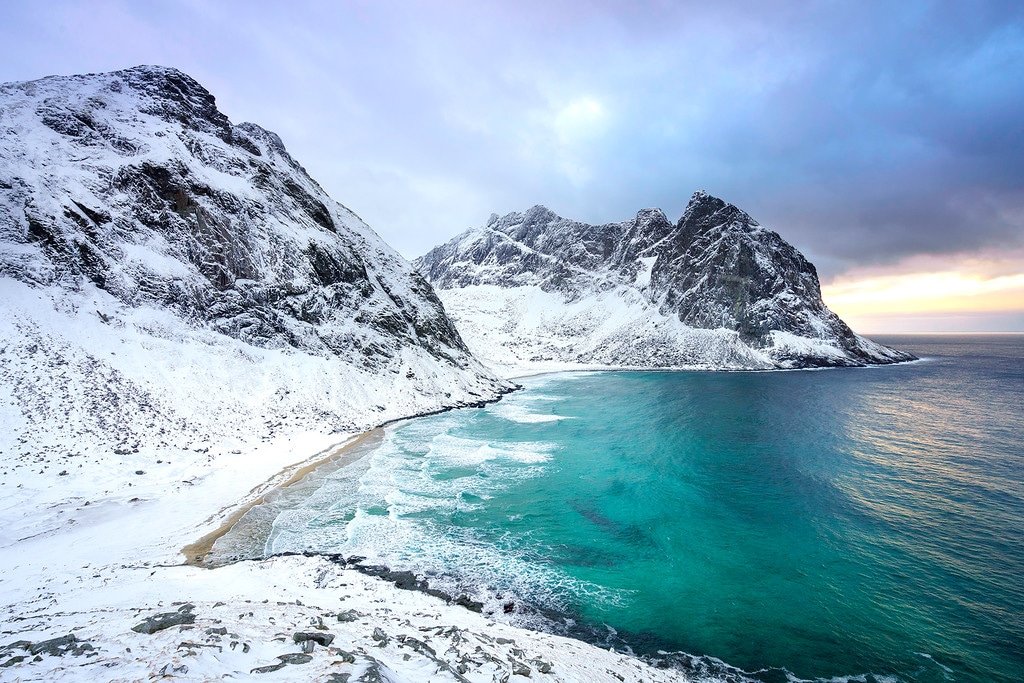 Hiking Ryten Mountain
Ryten Mountain Lookout
It may look forbidding, but Ryten (543m) is a surprisingly easy mountain to climb, thanks to low, steadily rising slopes – just give yourself three or four hours to do it. And if you're visiting Lofoten, you absolutely should do it. The view from Ryten is unparalleled, giving you a view of Kvalvika Beach and the surrounding mountains that will punch the breath right out of you. More care must be taken in the winter when crampons & ice axe are recommended.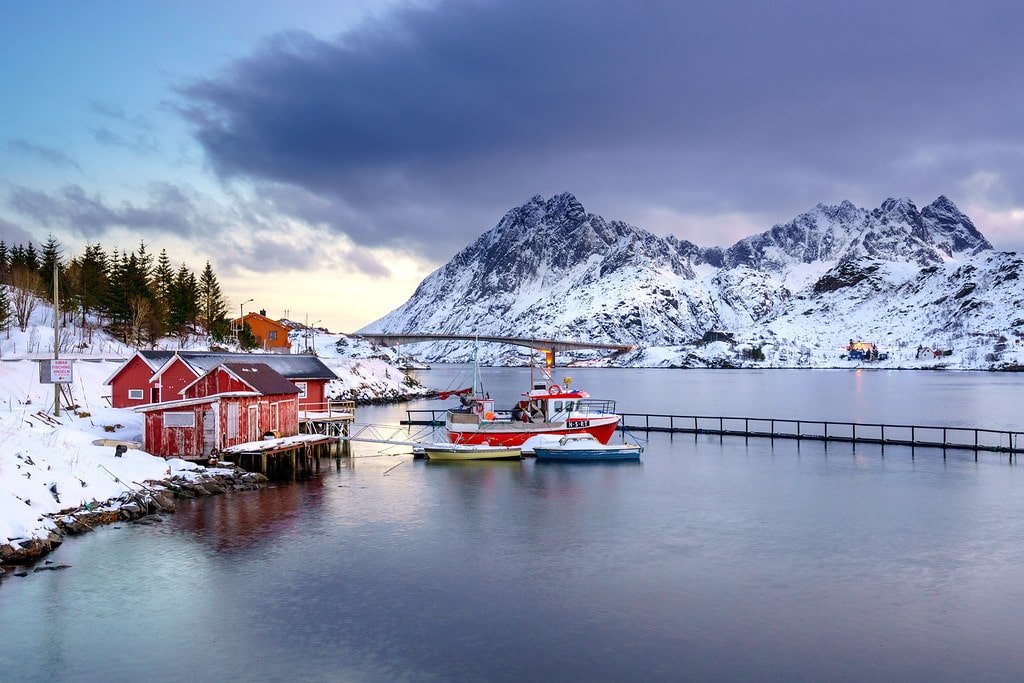 Beautiful Lofoten Sunsets
Endless Sunsets
Lofoten is north of the Arctic Circle – and that means a lot of things. It means the Polar Night, where the sun spends a full day below the horizon. It means the Midnight Sun, where the sun stays up for more than 24 hours. It means spectacular variation in day length, contracting or lengthening an hour every week between these two extremes. And best of all, it means incredible sunrises and sunsets that last for hours (yes, hours), turning the land and sea every color imaginable. I've never seen anything like it.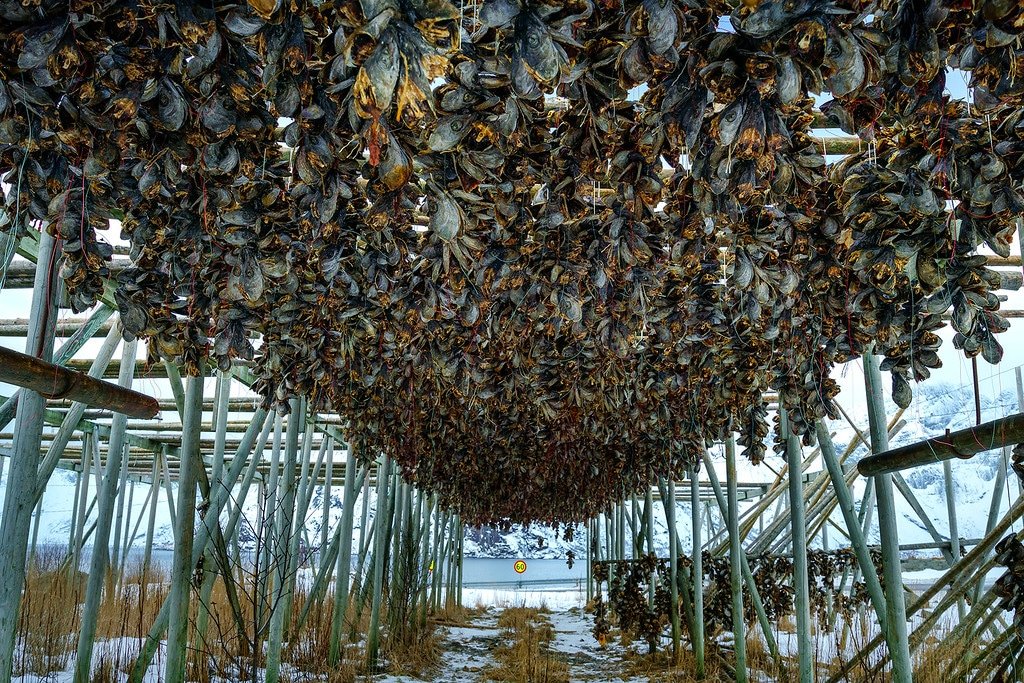 Stockfish Hanging to Dry
Lofoten Stockfish
The tradition of drying unsalted fish (mainly cod) on huge wooden racks goes back at least a thousand years, and it's still a big part of the Lofoten economy – and a spectacular sight, when the racks are full. If you want to understand the history of this ancient practice, head to Å's comprehensive stockfish museum. Depending on how fresh the fish are, you may be in for a smelly surprise if you get to close to them!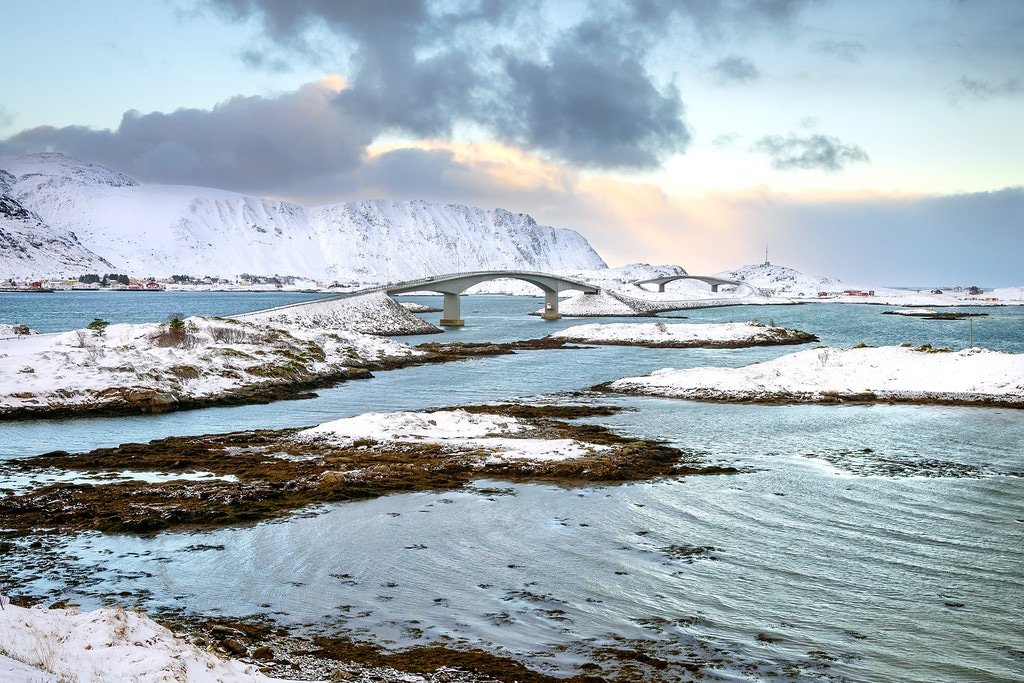 Connected by Bridges
Fredvang Bridges
Opened in 1988, these sinuous structures connect the fishing village of Fredvang with its craggy neighbor, Flakstadøya by road. They perfectly match the curves of the surrounding lowland islands – and the effect is a little eerie, as if you're getting a peek at what's underneath all the islands if you stripped all the rock and earth away. Driving across is fun, there are pull-overs every few hundred meters because the bridges aren't wide enough for two lanes.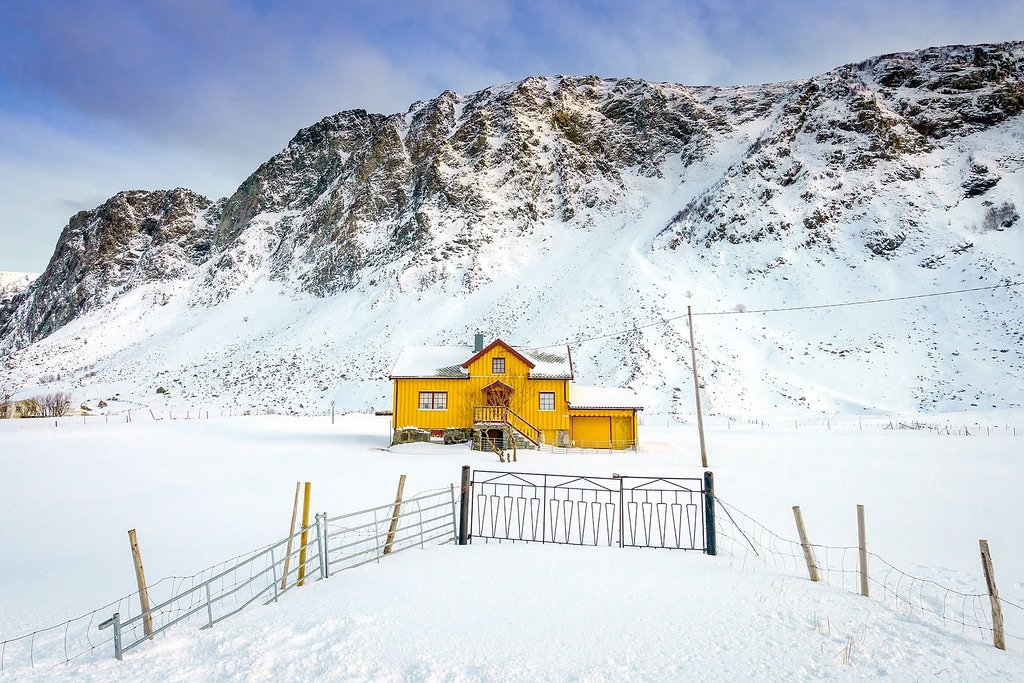 Old Fishing Cabins
Rorbuer Cabins
The signature architecture of the Lofoten islands, rorbuer (singular rorbu) are well-suited to their environment. These tough wooden huts were originally built to protect fishermen as they assembled the year's stockfish catch. These days, many have been converted (or rebuilt from scratch) into beautiful, primary-colored tourist accommodation – they can be a bit pricey, so it pays to do your homework about what's available.
Lofoten Islands Photography
If you are looking for spectacular nature, deep silence, northern lights, diverse adventures, wild weather, breathtaking sea and mountain views, you can't do much better than visiting Norway's Lofoten Islands in the winter to capture some amazing travel photography. ★
Watch Video: Lofoten Islands Road Trip